Our Private Lending Services
At One Day Money, we work to provide equity-based loans to finance pre-construction condo investments for clients in Toronto and across the GTA. Our goal is to eliminate your financial stress by providing you with quick loans so that you can feel confident about your pre-construction condo investment. We do this by making our direct lending process simple, fast and straightforward, giving you the immediate mortgage help you need. 
One Day Money offers three solutions — One Day Mortgages, One Day Assignments and One Day Purchases. Each solution is designed to ensure we address and lift the financial burden you may have as a result of your current condo financing struggles.
The best part of the One Day experience is that you do not pay any upfront fees other than a refundable $500 application fee. We know that your funds could be limited and you may be feeling stressed; to ensure a worry-free mortgage experience, we make sure there are no hidden fees* or charges that occur when you use our services.
We simply add your cost of borrowing — which is 4.5% per term — to our principal service charge, which then gets repaid at the end of the term along with your replacement financing. At One Day Money, we make sure you know our costs up front so that you can make an informed financial decision that comes without any surprises.

With over 20 years of experience as a private lender, One Day Money has built an established team of professionals that can decide within minutes if you qualify for our loan services for your pre-construction condo investment. Fill out a mortgage loan application form today and get started on closing your pre-construction condo with as little as 5% down.
*Legal fees and disbursements relating to the funding or discharge of the mortgage are the borrower's responsibility and are not charged by One Day Money.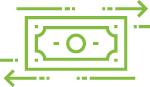 Following the original 30-day mortgage term, One Day Money offers a 30-day renewal period through our One Day Mortgage service. After that, with a verified refinance mortgage approval, One Day Money allows you the option to extend this 30-day renewal period for a second term to allow you time to receive your funds to close or to buy you out with a One Day Purchase.

If you're looking to sell your pre-construction condo, One Day Money will pre-negotiate a buyout amount to purchase your property through our One Day Purchase service. This process is designed to maximize initial investment while leaving us with enough equity to cover the borrowing costs and to secure an investment return. 
You always have the option to find your own buyer, but in case you can't, we make sure there is no risk of power of sale or foreclosure that will damage your credit. We tell you what the buyout amount will be the day you sign the deal.
Purchased a pre-construction condo and can't wait until construction is complete? Need your money today? We can help! 
While One Day Money offers assistance for all property investments, we specialize in providing lending services and home equity loans for pre-construction condo developments in Toronto. 
Although pre-construction condos are a great investment, it can be challenging to get your money out early if your financial circumstances change. If your property has enough equity, One Day Money will purchase your pre-construction condo within one day of your request through our One Day Assignment service, allowing you to free up cash fast!
2018-11-01
Step 1: Complete a quick pre-qualification form
Tell us the amount of the loan you require and when you will need it here.
2018-10-31
Step 2: Schedule a call with a representative
Often within minutes, a One Day Money representative will confirm the receipt of your application form and schedule a call with you. After a quick review of your property and comparables, we will let you know if you have been approved for our lending services.
2018-10-30
Step 3: Provide minimal documentation
You will need to provide us with:
Your Driver's Licence ID or acceptable government ID

Agreement of Purchase and Sale for the Property
Access to the property for less than 1 hour
Copy of Insurance for the Property
(if you don't have it, we'll help you get it)
Copy of the lease (if there is one)
Statement of adjustments
$500 Mortgage Commitment Fee (Fully refundable if we don't offer you a mortgage loan but all of the information you provided is accurate)
2018-10-29
step 4: firm offer
Once the condition of the unit is verified, we will confirm your funding and you will gain access to our additional lending services. The mortgage documentation will then be provided to you and require your signature. We will wait for confirmation from your lawyer for further funding instructions.
2018-10-28
Step 5: Receive Funding
We fund your deal for the initial 30-day mortgage term. Once you secure your financing, we discharge the mortgage or you can extend our services for an additional term(s). 
Interested in our services? Enter your information and we'll get back to you.